Hey everybody! After a lot of positive feedback, I decided to take the time to write up an article on how I plot my own routes and upload them onto my GPS. I am doing this because it is a way to contribute to the Louisiana outdoorsman community. I see that a lot of people perceive charter captains as not willing to do this free of charge, and this is simply not the truth. I am an avid fisherman, just like you, and at the end of the day I only want everybody to have a fun and safe experience!
For the purpose of this article, the GPS I will be using is a Lowrance 332C, but the method and tools used are good for any GPS. The biggest problem we will run into is conversion issues, which will be handled on a case-by-case basis outside the scope of this article. By "conversion issues" I mean converting from Google Earth's Key Markup Language (*.kml) to whatever format your GPS uses. In the context of this article, that is the Lowrance *.usr.
I use two programs to do all of this successfully. I use Google Earth and GPS Babel, which are both free of charge and can be downloaded off the internet.
Their respective locations are:
http://www.google.com/earth/index.html
http://www.gpsbabel.org/
Let's talk about Google Earth. It is essentially a digital map of the entire world, represented in a small-scale, three dimensional model on your computer. Here is a picture to show you what I am talking about.
Google Earth uses lat/longs, but for you military types, it also recognizes Military Grid Reference System. I will use lat/longs in the format of DD° MM' SS.SS". There are many tools you can use in Google Earth. You can measure distances, view the terrain three dimensionally, measure azimuths and create routes. Google Earth has features like Street View that will let you see what an area looks like from a particular location on a street in a 360° panoramic. This is especially useful for bank fishing or learning where marina parking is without ever having been there! I strongly suggest playing with Google Earth in order to learn its full functionality, especially the route tool, as that is what this article is concerned with.
When you open Google Earth, you will see a tool that looks like a ruler in the top bar of the window pane.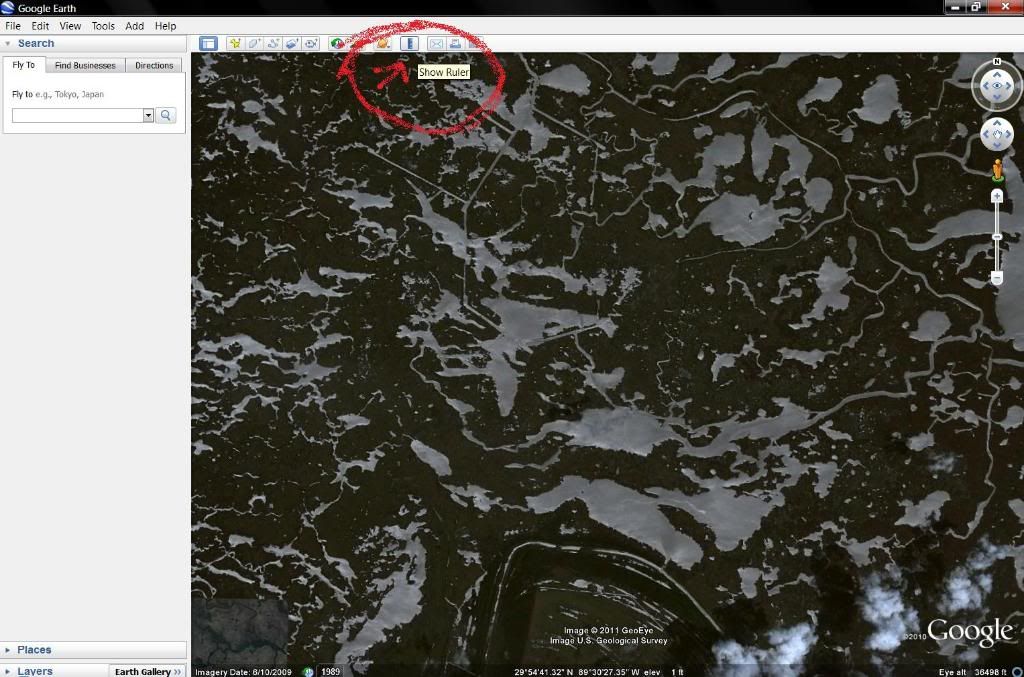 Click on it. You will see a box pop up with two tabs. One will say "Line" and another will say "Path".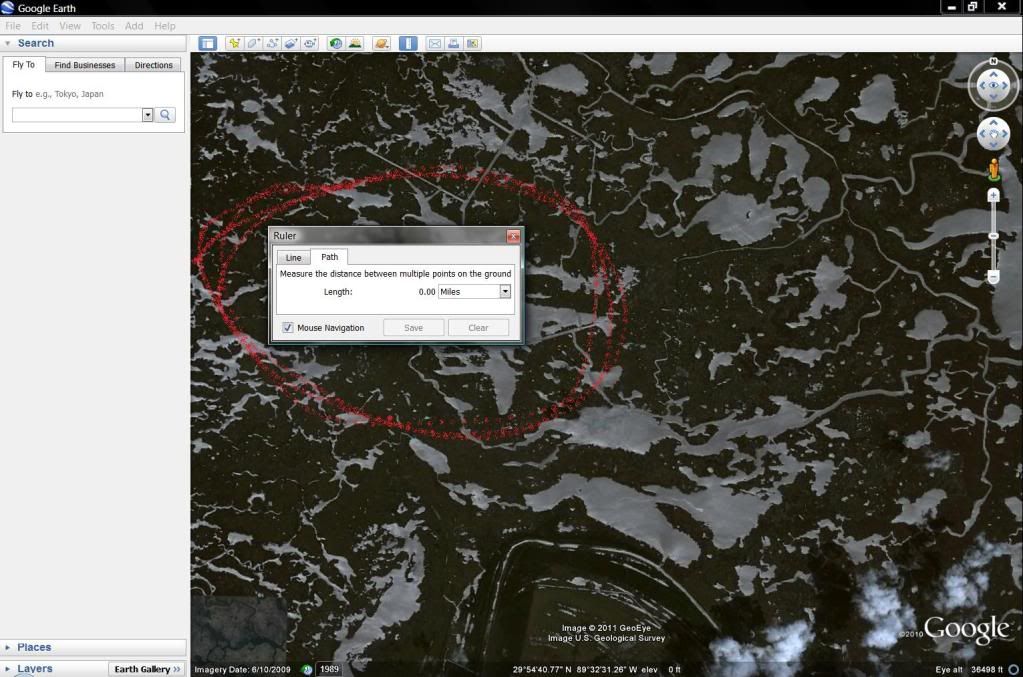 That Line tab is used to measure distances. The Path tab is used to create routes. If you look at the window pane on the left, you will see a bar titled "Places".

If it is not expanded, go ahead and expand it. When you create a route or waypoint, it will be created not only on the map, but also in this pane.
If I wanted to create a route from Breton Sound Marina to intersection of Bayous LaLoutre and St. Malo, I would press the ruler button and select the Path tab. For instructional purposes, the starting point is located at 29°49'7.10″N 89°36'42.36″W and ends at 29°50'19.21″N 89°32'51.06″W. Zooming in on BSM, I would start my route there and trace it across the MRGO, down Bayou LaLoutre to my destination.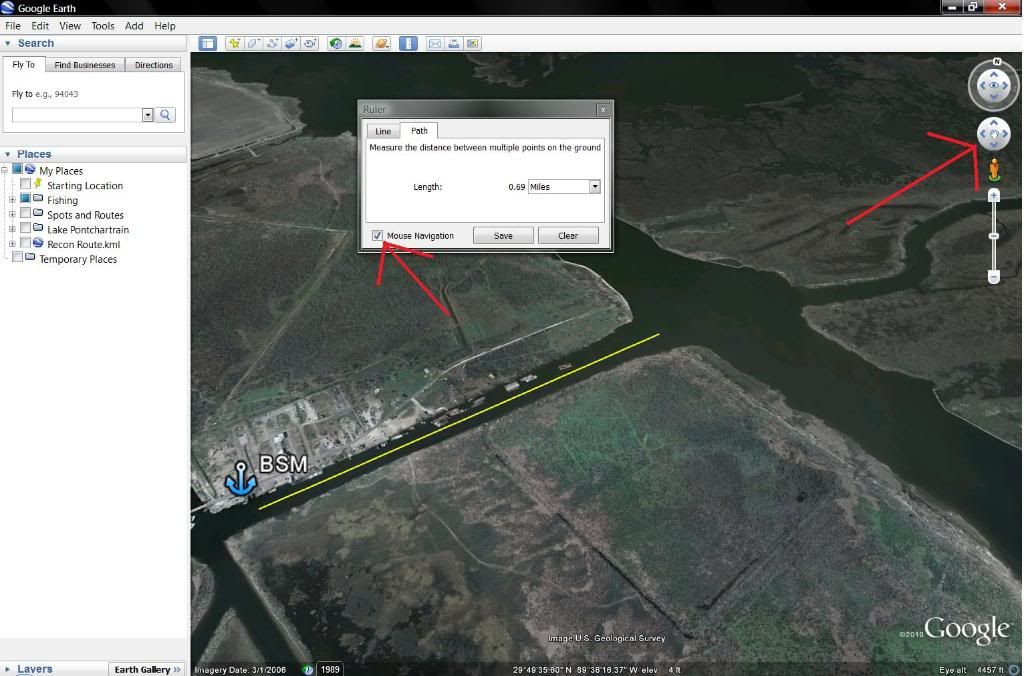 You can do three things to move the screen across the map as you plot your route. You can use your A, W, S and D keys to scroll up, down, left and right. You can use the scroll symbol on the right hand side of the map or you can check the "Mouse Navigation" box and hold down the left mouse button to scroll around.
Once I have completed my route, I can hit the "Save" button which will cause another box to pop up. From this box, I can view and edit all properties of this route, to include the route's distance under the "Measurements" tab. For now, I will name the route "Stallion One". If you look at the Places window pane, you will see your route, Stallion One. From here, you can right-click on it and hit "Save Place As".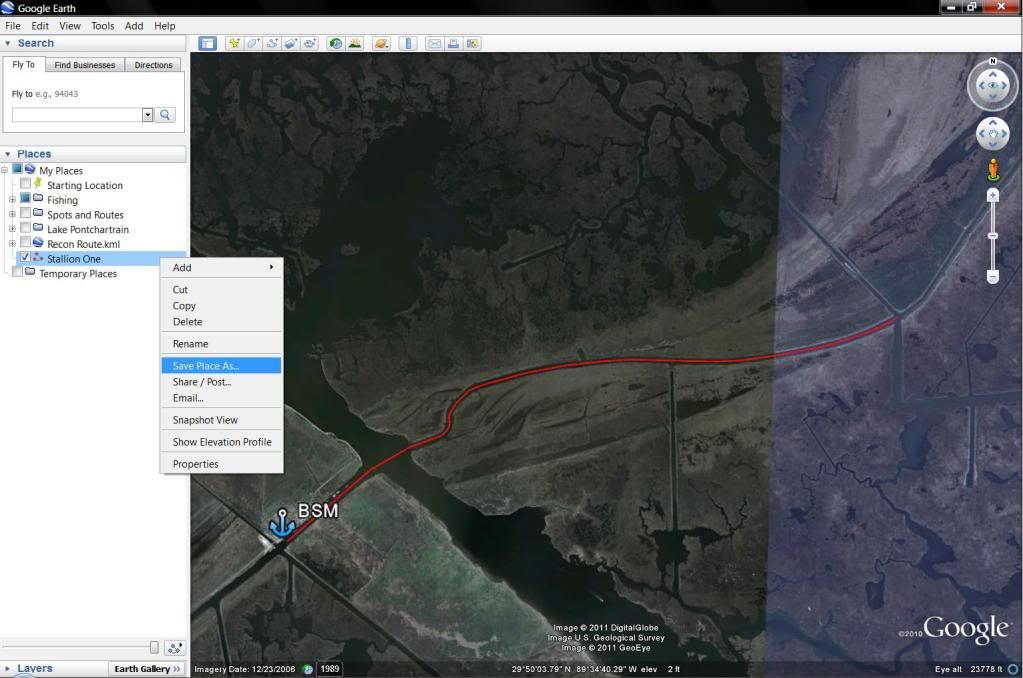 I named it "Stallion One" and, MOST IMPORTANTLY, I saved it as a Key Markup Languange file or .kml file.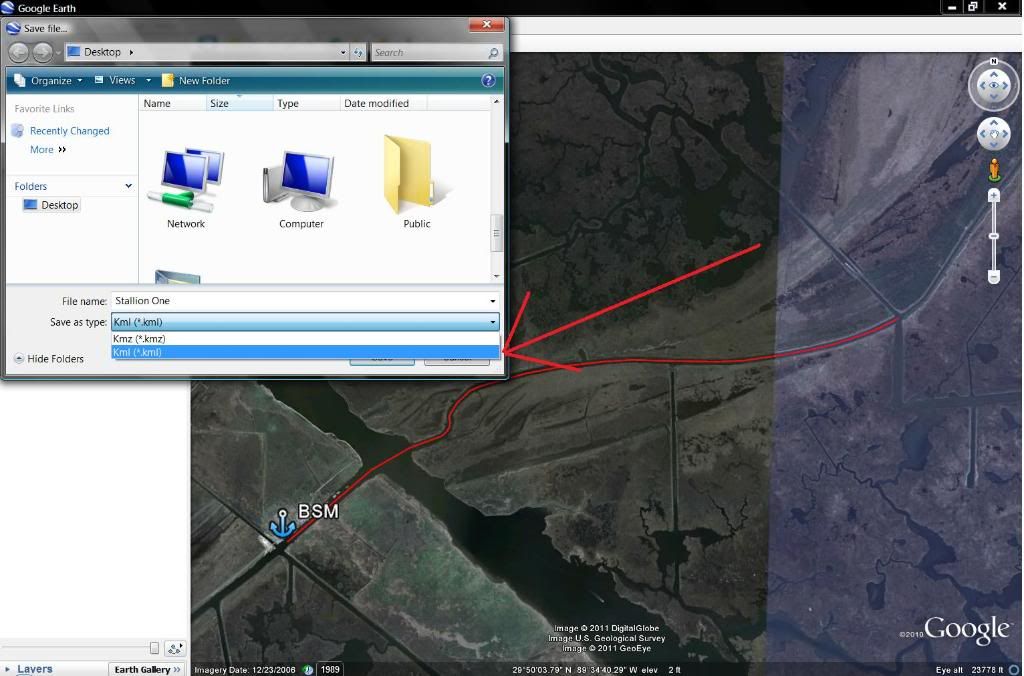 This is important for conversion purposes because .kmz files can't be converted to popular formats for other GPS name brands. As one last detail, I saved Stallion One.kml to the desktop, so it's easy to find.
Opening GPS Babel you will see two sections, an Input and Output section.

For the input section, I click on "File Name" and browse to the desktop, where I find the route "Stallion One" saved. I select it. Then for output I go to the "Format" drop down menu and select the type for my boat's Lowrance 332C, which is the .usr file format.

For the most part, file formats are listed in order of their manufacturer, making locating them in the drop down menu that much easier. Next, I click on "File Name" and save the file where ever I want to save it on my computer. I like to store them in a folder named "GPS Stuff", so I will always have a backup after I upload the file to my GPS. Once I have completed these steps, I hit the "Apply" button at the bottom of the application. This changes the format of the route from a Google Earth .kml file to a Lowrance .usr file.
Now all I have to do is put the file onto an SD card, install the SD card into my GPS and then follow the steps on my GPS's manual to load the file for use. It seems like a lot of work, but it's really not. With enough practice, you can throw a route together in no time at all.
If your GPS does not use an SD card, then you will need the appropriate accompanying software and USB cable. Most GPS's come with their own software and USB cable. However, if it does not, you can try using a cable with a USB fitting on one end and a mini-USB fitting on the other end. EasyGPS is a great piece of free software that you can use to upload and download from your GPS to your computer. It will be on you to learn how this software works.
Something I include in Angler's Boot Camp is how to conduct this route-creating and file-converting operation effortlessly. I custom tailor the service to your needs and what kind of GPS you use. If I don't know how to accommodate your electronics, I will find a way! Learn how to do this and you will never have to pay for another SD card loaded with routes!
Comments
comments